"The Fallen Snow" by John J Kelley!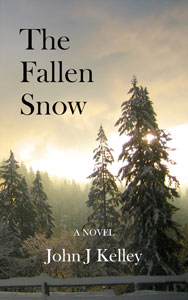 Author John J Kelley takes readers from the horror of no man's land to the grandeur of Paris to the stillness of an Appalachian forest in his debut novel set at the close of the First World War. Now his portrayal of a young soldier's return to the expectations of a rural Virginia community is earning praise, with The Fallen Snow named as a finalist for the ForeWord Reviews Book-of-the-Year Awards to be announced in June.

"I've always been fascinated by how people cope with painful circumstances," Kelley explains, "how we learn from experiences shared across generations, among friends, between lovers. And as a gay man, I've long pondered the journey of those in earlier eras, discovering their sexuality at a time when any mention of same-sex attraction was unthinkable. Writing The Fallen Snow allowed me to explore both profoundly human stories through a remarkable character, Joshua Hunter, a youth paralyzed by guilt from the war and suffocating beneath intense family pressures."

Joshua's tale unfolds in two timelines: one following his return to Virginia, the other his time in France. "A key issue with Post Traumatic Stress Disorder, or 'shell shock' as it was then known," Kelley describes, "is the victim's inability to escape the past. All the emotion circles back, binding the sufferer. I felt it was important to bring the reader into that cycle, for them to experience it with him, in a sense."

Though the action at times shifts to battle, the novel remains at heart a love story, not only that of young Joshua and his bold sergeant but also the more nuanced one of his parents. The tale delves deep into the psyche of his mother, Elisabeth Hunter. "Elisabeth fights to hold her family together while facing her own challenges," says Kelley. "Then her son returns from war, aloof and distant. Even as she seeks a way forward herself, she sheds light on Joshua with insights only a mother could offer."

ForeWord Reviews awarded the novel 5-stars, praising its realistic characters while declaring it "a timeless tale." With its gripping climax and poignant resolution, The Fallen Snow is sure to leave fans pondering the events of the novel long after its final page.

About Author:

John J Kelley is a fiction writer crafting tales of healing, growth and community. Born and raised in the Florida panhandle, he graduated from Virginia Tech and served as a military officer. He is a member of The Writers Center, and lives in Washington, DC, with his partner of 19 years.

Enter to win!

Thanks for visiting EDGE!
Click here to learn about the 365 Gifts Promotion »